Ahhh.....what could be better than a reason to hang out in my scrap room and crop? Well, that's what my plans are next weekend!
A Walk Down Memory Lane
is having a "Baby, it's Cold Outside" winter crop and it is bound to be a weekend full of warm fuzzy challenges and games ----and PRIZES!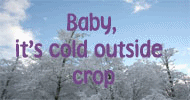 The details:
We will be starting on Jan 21st posting challenges and all weekend the DT will be posting games. You have till the 23rd to upload your creations.

We will have RAK's to give a way and one person will win a prize from AWDML by random drawing.

So the more you do , the more enteries you get for the prize!